Fast, easy & affordable small
business payroll & HR
Simply complete the form below to receive pricing on ADP's payroll, HR & benefits solutions specific to your small business needs.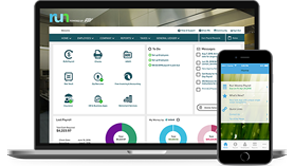 Amazingly simple small business payroll with expert support
It's not easy running a small business. We're here with the solutions you need, when and how you need them:
Process payroll in minutes, at your desk or on the move
Have taxes calculated, deducted and paid automatically
Get answers 24/7 — from experienced payroll professionals
Have quarterly and annual reporting done for you
Integrate time tracking with payroll
Help avoid costly errors — intelligent tech flags possible mistakes
Manage your state unemployment insurance (SUI), including claims administration and reviewing your account for erroneous charges
ADP solutions can help you:
Access your payroll information anywhere, anytime, backed by 24/7 live customer service support.

Seamlessly integrate payroll and accounting data with QuickBooks Online.
Recruit, hire and manage your team with confidence with help from the HR HelpDesk, Employee Handbook Wizard, HR toolkits and much more.
Get a better workers' compensation
insurance solution.
Cash flow is critical. Learn how ADP®'s Pay-by-Pay® Premium Payment Program, a pay-as-you-go premium payment program, may help free up cash and enable you to pay only the premiums you owe. Let ADPIA1 help you get the right insurance for your unique business and the tools to help make managing those payments easier, especially in today's dynamic environment.

Improve cash flow
Spread out insurance premium payments and potentially eliminate an up-front deposit.2

Improve accuracy
Pay-by-Pay uses real-time payroll data and carrier rates for more accurate premium payments.

Easier audits
Carriers may accept the Pay-by-Pay report during the year-end audit and approve without your involvement.3